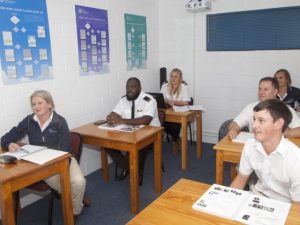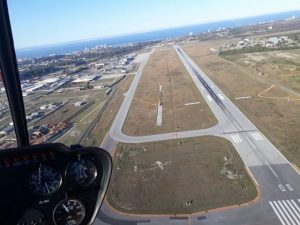 Being based at the Port Elizabeth International Airport provides for an excellent training experience. We also make use of Uitenhage airfield which is  unmanned and approximately 10 min flying time from base. Pilots are exposed to dealing with a controlled airspace from day one, as well as the procedures and protocol for an unmanned airspace.
Students flying at HPTC get to experience the diversity of the Eastern Cape from the air, everything from miles of coastline, city lights at night, farm lands, game reserves and much, much more!
Our students have the choice of attending Ground school for both PPL and CPL by highly qualified and knowledgeable helicopter pilots.
The flight school is large enough to serve all your needs, yet small enough to provide each individual with the time and one on one personal attention that each student desires. Our facilities are designed to best suite the needs of our students and to make the journey of becoming a helicopter pilot an exciting and memorable one.
Helicopter Pilot Training Centre will welcome you as a visitor, friend or student. Our experienced team consistently ensures that each and every student develops to the best of their ability, both in the ground classes and in the helicopter. We strive to make everyone who walks through our door welcome and a part of our very unique family.
Our aim is to do more than teach someone how to fly, but rather to develop helicopter pilots of the highest standard.
We are open seven days a week, come pay us a visit!!